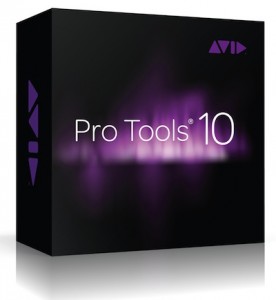 Studio: Red Note, Santa Monica, California
Current Project: Network TV Show
DAW: Pro Tools 10.0.1
Task at Hand: Stereo mixing
It is fast, very fast. Pro Tools 10 is a significant upgrade from prior releases that introduces a completely new design architecture and disk engine. I recently swapped out my legacy Pro Tools 8 HD system running on an old G5 machine to a MacPro running Pro Tools 10 native. The speed difference alone is dramatic. I've been putting it through the paces and starting to use it on current projects. The project I'm working on this week is an on-going television series that I had been previously mixing in PT8. Once, I got the I/O remapped to a new 12 channel hardware interface and a few plugins updated or substituted, things have gone very smoothly.
Some of the great new features I've been using are Clip Gain, the new Audiosuite processing that creates handles and the new Channel Strip plugin. I'm not quite comfortable with the GUI on this new plug, but it seems to sound very good. Pro Tools 10 is not 64 bit because it still needs to support the older "blue" 32 bit AVID hardware interfaces, but evidently the next version will be a true 64 bit app. The advantage of 64 bits is it gives you the ability to address more memory for larger files. Although this version does support TDM and RTAS, the new AAX plugin format is clearly the path forward in design and standards. The new features are incredible, although some of the ones I use are not included in the initial upgrade price. In order to get all the advanced automation features, VCA mixing, 5.1 surround and some others, you'll need to drop another $1,999.00 for the "Production Toolkit'. Nothing is EVER inexpensive in the AVID world!
I still have my HD system setup and can switch back to it at anytime, but at this point I'm pressing on with 10. My workflow here at my studio is all mixing, editing or composing so I don't have a need to have the 48 channels of Digidesign and Apogee A/D interfaces. I'm still organizing and sorting out my plugin's from my HD rig, but many of them still work in 10. I never dreamed I'd be seeing the performance of RTAS plugins in Pro Tools!
With this release of Pro Tools 10, it is not only a transition for me but for AVID also. I suspect there are quite a few mixers out there still using older G5 machines with legacy Pro Tools software. Download the 30 day trail and give it a try. I don't think you'll look back. It truly is an incredible professional tool.