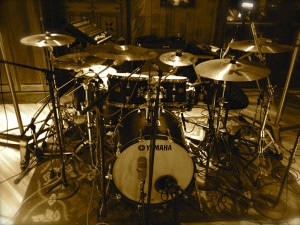 We camped out recently for the week at House of Blues Studio in Encino, California recording the new Jonathan Butler record, "Living My Dream". Jonathan brought in his entire band along with a few guest artists. What a wonderful group of talented musicians!
House of Blues is a great studio nestled up in the Santa Monica mountains above the San Fernando valley in southern California. The studio has a beautiful sounding 36 channel, 72 input custom, all discrete, NEVE console with a 16 channel API sidecar. The outboard gear selection offers both vintage and modern. The studio also had some of my favorite vintage Neumann microphones. It's one of those studios where you can capture the music through a warm, vintage analog signal path into Pro Tools. Awesome!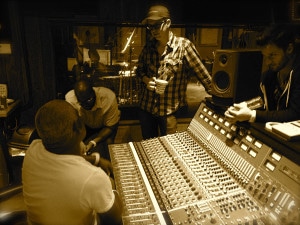 All the songs were tracked live – drums, bass, electric guitar, percussion, keyboards and of course Jonathan singing and playing guitar. I think I used every input on the NEVE and a few on the API sidecar! The studio itself had a great sound to it – very warm and natural. There is always something about the wood surfaces of a room that give different studios their character sound.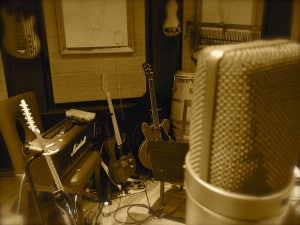 A big part of my job is setting everybody up in the studio so they are comfortable. I must make sure they're hearing what they need to hear through the headphones, having a good line of sight with other members of the band and other things like the lights and the temperature of the room. I really tried to make as much of a creative atmosphere as possible for Jonathan and his band.
None of this could be done without having a great assistant engineer to help me out and thankfully House of Blues provided Sada Haru to work with us. The sessions kept all of us really busy throughout the week as we tracked and overdubbed 13 songs.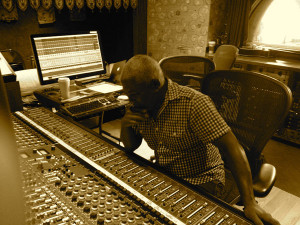 I'll be mixing the record at my studio, Red Note, this fall with a 2014 release on Mack Ave. Records.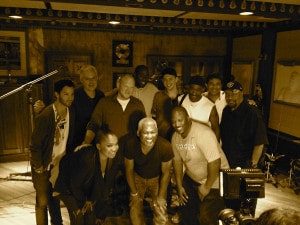 Pictured here is Jonathan's band with guest artist/co-song writer Marcus Miller and the legendary George Duke. George co-wrote one of the songs with Jonathan and came in to play on the track during the week we were at House of Blues. Sadly, George died a few months after this recording session. Rest in Peace George, you are missed.